According to Tech Radar. Apple Watch is at the top of the list when it comes to top smart watches.
"The smartwatch is the ultimate smartphone accessory. It can tell the time, of course, but it can also beam important notifications straight to your wrist, and run native apps.
What's more impressive is that many of today's best models can also perform a ton of novel tricks, such as enabling you to search the internet with your voice, tracking your exercise with GPS, and letting you check-out at the grocery store without reaching for your wallet".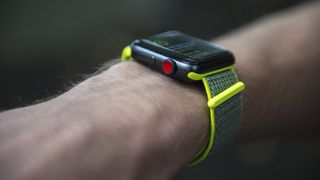 1. Apple Watch 3
A better connection with the world's best smartwatch
OS: watchOS 4 | Compatibility: iOS | Display: 1.53″ OLED | Processor: S2 dual-core | Band sizes: Varies drastically per watch size | Onboard storage: 8GB / 16GB (Non-LTE and LTE respectively) | Battery: 18 hours | Charging method: Wireless | IP rating: IPX7 | Connectivity: Wi-Fi, Bluetooth, NFC
Read the full review: Apple Watch 3
http://www.techradar.com/news/wearables/best-smart-watches-what-s-the-best-wearable-tech-for-you-1154074